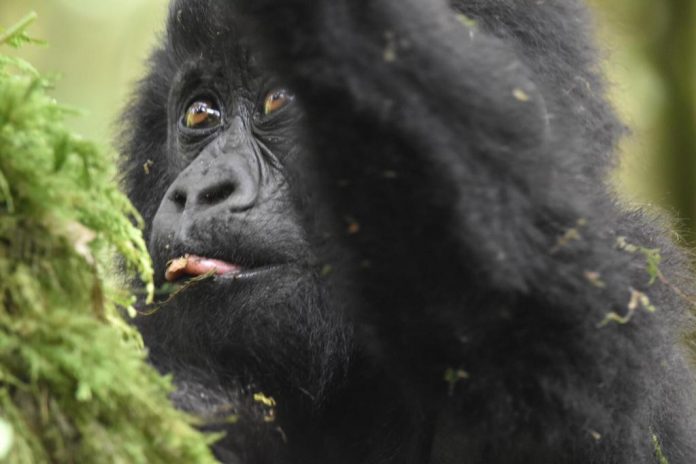 A 2 Days gorilla safari to Bwindi Impenetrable Forest National Park of Uganda is one of the best sellers for travelers on the go interested in meeting the mountain gorillas in the wild. This gorilla trip starts and ends in Kigali, Rwanda. The trip takes you to Bwindi via the Cyanika Border and past the Virunga Mountains, one of the most scenic places in Africa.
Guide will pick you up in the morning from your hotel or the Airport. Take a brief Kigali City Tour – Take a Gisozi Genocide Memorial Tour where you will learn about the 1994 Rwanda Genocide that saw almost a million people dead in just a few days. Have Lunch in Kigali and Travel to Southern Bwindi Impenetrable Forest National Park.
If we travel via Cyanika Border, you will have a stopover at the Twin Lakes of Burera and Ruhondo. Then continue past the Mgahinga Gorilla National Park, and on a clear day you will take great photos of the 3 Virunga Mountains: Sabyinyo, Muhabura and Gahinga Mountains. Continue to Bwindi Impenetrable National Park in South Western Uganda. Depending on the location where there is availability of gorilla permits, stay at Rushaga gorilla camp.
Rushaga Gorilla camp is a haven for trekking the world's famous silver back gorillas within the Bwindi Impenetrable Forest National Park. Built on 6 acres of land bordering Bwindi Impenetrable National Park, Rushaga Gorilla Camp is a great value safari lodge. Located within a distance of just 15 minutes' walk away from the gorilla tracking starting point, this is the ultimate place to stay during your safari.
Its location on a mountain slope guarantees nice vistas of the Bwindi National Park and of a spring where forest elephants occasionally come down for a drink. It has eco-friendly lodges with luxury tents and double Banda's close to the forest.
When you visit Uganda, this camp has several amenities in place to give you a memorable and comfortable stay at affordable rates. A visit to this facility implies closer access to the seven Rushaga mountain gorilla groups such as Mishaya, Kahungye, Nshongi, Bweza, Kutu, Rwigi, and Busingye.
Early breakfast, get briefed about the 'Dos' and 'Don'ts' of gorilla trekking and how you should behave while with the gorillas within the forest. Guided by a UWA Ranger Guide, start the hike into the impenetrable jungle to look for the endangered mountain gorillas. Gorilla Tracking can take 2-8 hours depending on the movements of the mountain gorillas within the forest.
Tracking involves walking up steep and densely forested hills before finally coming across the gorillas camouflaged in the vegetation. Upon meeting the mountain gorillas, you will stay with these giant apes for 1 hour enjoying observation and photography. After the gorilla trek, return to the park offices for your certificate. Embark on a return trip to Kigali.