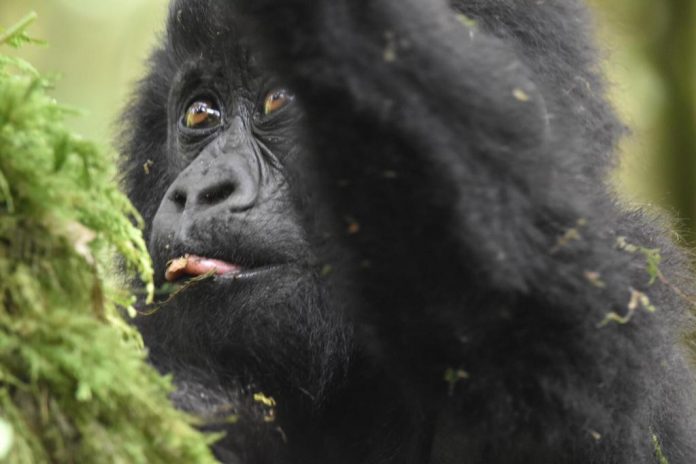 Enjoy the gorilla trekking Rwanda and wildlife safari taking you to the gorilla haven in Rwanda's Volcanoes National Park jungle to trek mountain gorillas. Then to Akagera National Park for game drives and boat cruise to the prominent memorial sites of the tragic genocide that occurred in Rwanda.
Rwanda is considered to be the best place to experience gorilla trekking tours in Africa. The park is home to the intriguing but endangered mountain gorillas. The Volcanoes National Park covers an area of about 16,000 hectares and is found in the north-western part of Rwanda. It consists of afro-montane forests, bamboo forests, Savannah grassland, vast swamps and 5 volcanoes (Bisoke, Gahinga, Muhabura, Sabyinyo and Karisimbi).
Mount Karisimbi is one of the four tallest mountains in Africa. The Volcanoes national park is home to the spotted hyena, buffaloes, elephants, bush bucks, duikers and golden monkeys among many other mammals.
Gorilla trekking at the Volcanoes National Park involves hiking through dense bamboo forests and Steep Mountain slopes in search of one of the gorilla families in Rwanda. The final encounter with the primates is considered one of the most exciting and memorable Wildlife encounters in Africa.
You must book a Rwanda gorilla permit in advance so as to be sure of getting a spot for gorilla trekking on a given date. Gorilla permits can be very difficult to secure during peak seasons like June to September and December to March. Gorilla permits in Rwanda currently go for $1500.
There are 10 gorilla families available for trekking and only 8 people can visit a particular group in a day. This implies that there are only 80 gorilla permits available per day for the various habituated gorilla groups.
The trek starts with a briefing from the park headquarters and Rangers at around 7:30am. During the briefing, participants are divided into groups and assigned to a particular gorilla family.
The less fit hikers are assigned groups which are closer to the park offices. At 8:00am, the park Rangers lead the group to search for the gorillas. Regardless of which group you eventually get; you will find that watching mountain gorillas is breath-taking. You spend one hour just watching the little ones roll around and play. Mountain gorillas are always playful and quite curious. Some may walk right up to you but with no harm intended. While with the gorillas, it's important to listen to instructions from your Guides and to always stay calm with no sudden movements.
Take three hours drive from Kigali to a world of Africa's favourite wildlife, from elephants to black rhinos. No need to book a long safari on this tour, you'll depart the city bright and early, getting in a full day of game drives as you traverse the park's low mountains and Savannah. Following your guide's keen eye, you'll scout for giraffes, zebras, lions, impalas, buffaloes, and more, all in their natural habitat.
Akagera National Park Rwanda is found in North Eastern Rwanda, at the country's border with Tanzania. It is dominated by swamps and small lakes with flow in the wake of River Kagera. The network of water sources and unique landscape together create very spectacular scenery. It is quite a remarkable eco – system. The Park was obviously named after River Kagera that feeds different water bodies including Lake Ihema.
Surrounded by cultivated hills, that are so much a part of Rwanda scenery, the scenery of Akagera national Park is quite simply beautiful. The landscape is low, composed of wide plains dominated by grass, cactus-like Euphorbia candelabra shrub and both thick and thin forests although it does carry on with the general rugged terrain that is so characteristic of Rwanda.
Akagera is, above all, big game country! Herds of elephant and buffalo emerge from the woodland to drink at the lakes, while lucky visitors might stumble across a leopard, a spotted hyena or even a stray lion. Giraffe and zebra haunt the Savannah, and more than a dozen types of antelope inhabit the park, most commonly the handsome chestnut-coated impala, but also the diminutive oribi and secretive bush buck, as well as the ungainly tsessebe and the world's largest antelope, the statuesque Cape eland.
Among aquatic life include crocodiles and hippos. Akagera National Park also features a large concentration of bird life with over 525 species identified. Unique species such as Shoe billed stocks and papyrus Gonolek can be encountered. Among the Endemics include the Jacanas, ibis, sand pipers and herons.
From June to September is the best time for wildlife viewing in Akagera. Wildlife is easier to spot because vegetation is thinner and animals gather around the lakes, which are a big feature of the park. Mid-December to mid-February, which is a drier spell between the short and long rains of the Wet season, is also a good time.