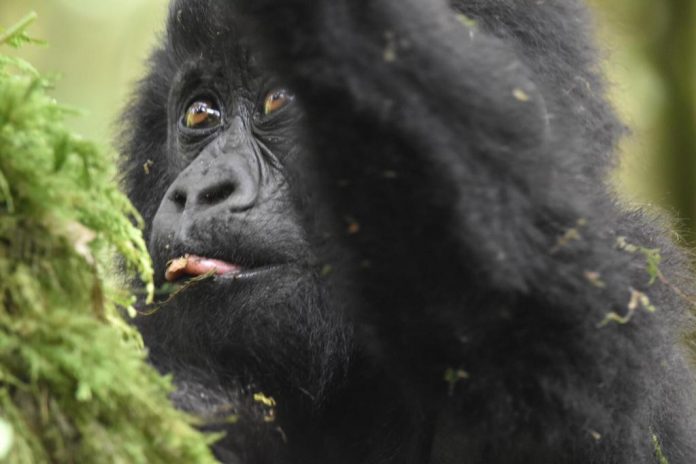 If you're interested in mountain gorilla tours, then Uganda is the place to be. Home to nearly half of the world's remaining mountain gorillas, Bwindi Forest is an unforgettable destination. About 459 gorillas live in the steep mountain-side jungle and several groups have been habituated to humans.
An up-close encounter with these critically endangered giants is an experience like no other and anyone who has the chance shouldn't pass up the opportunity. The maximum number to trek a given gorilla family is 8 people and the maximum is only 1 hour.
Bwindi Impenetrable is an outstandingly beautiful place; a magnificent green envelop of tangled forest that clings to the steep ridges of the Western Rift Valley. But the trek to find the gorillas should never be underestimated; it's a tough scramble up and down wet and slippery hills through the dense undergrowth.
But that all adds to the achievement, and nothing can beat the excitement when your tracker halts abruptly in front of you, hesitantly sniffs and listens to the crisp air, motions for you to sink to the ground, and then slowly points. The reward makes it all worthwhile when the gorillas are finally located. These big, beautiful, human-like monoliths staring at you amongst lush greenery is spellbinding.
Gorilla Habituation Experience
Bwindi is an amazing environment which certainly lives up to its name. The dense forest contrasted with the tea plantations, which serve as buffer zones between the national park and human habitation, is a breath-taking view from the air. Gorilla Habituation Experience takes place in Rushaga sector in the southern sector of Bwindi Impenetrable National Park in Uganda. This experience gives you more time to spend with mountain gorillas still under the mock.
Only 4 people are allowed to visit a given gorilla family and treks are guided by experts in habituating wild gorillas to become used to the presence of human beings. Gorilla Habituation permit costs $1500 and this fee is more expensive compared to the regular gorilla permit which costs $700 but worth the money.
Bird Watching in Bwindi Forest
Bwindi is estimated with over 351 bird species, Bwindi Impenetrable National Park is a good spot for birders and boasts at least 23 Albertine rift endemics. Birding in Bwindi is not only exciting for the unique bird species present but is also rewarding in the form of diversity that can be identified on a single day's escapade. Birding trips are led by expert ranger guides along the trails through this ancient forest.
Birding in Bwindi is good year-round, but at its best in March and September. June and July have the least rain while March to mid-May has the most.
African broad bill
Black bee-eater
Black-billed turaco
Black-faced rufous warbler
Black-faced warbler
Blue-headed sun bird (NE)
Cinnamon-chested bee-eater
Grauer's broad bill (NE)
Handsome francolin (NE)
Many-colored bush-shrike
Mountain masked apalis
Neumann's warbler
Olive-breasted green bul
Purple-breasted sun bird (NE)
Regal sun bird (NE)
Ruwenzori apalis
Shelley's crimson wing (NE)
Western green tinker bird
Yellow-streaked green bul
Batwa Cultural Experience
The Batwa are commonly known as pygmies (they are called Pygmies because of their short height), are an endangered group of people around Echuya Forest Reserve in Kisoro and Kabale districts of South-Western Uganda. The Batwa are the original people of the rain forest who are the primary inhabitants of the Montane Rain forest of Uganda, Rwanda, and Burundi.
They lived, gathered and hunted in the rain forest since time in memorial. They were never involved in farming, there was no destruction of the forest, no charcoal making, their shelters did not disturb the environment, and they lived in harmony with their beloved forests, wildlife including the Mountain Gorillas and left a low ecological footprint behind them.
Cultural tours can mean anything from visiting the local iron smith, a visit to a crafts village, a trip to the traditional leader whose expertise is in prescriptions that have healed the people of the land for centuries, a visit to the local women's group to learn about how gorilla tourism impacts on their lives and you can also participate in one of the traditional dances or skits. The History, life style and culture of these community is quite amazing and interesting.
Bwindi Forest /Nature Walks to the waterfalls
There guided nature walks in Bwindi Forest that lead to some of the park's still streams and stunning waterfalls and along the way, tourists can bask in the richness of the biodiversity of this park. Butterfly species and other invertebrates, birds, primates, and vegetation can also be sighted.
Buhoma Village Community Walks
The 3 hour village walk introduces you to the people and their culture living near Bwindi Impenetrable Forest in Buhoma area. The Buhoma Community Village Walk is cultural learning for most. Here you find out how the people in this village live. The life is quite different from the lodge where you are staying.
The key to a community walk in Buhoma is the guide you will have and it is also a community organized activity that directly community members. This walk begins from Buhoma Community Rest Camp.
Buhoma to Nkuringo Hike and vice versa
A hike from Buhoma to Nkuringo is an interesting walk to learn about the flora and fauna from your expert guide as you wonder yourself in the jungle. This hike is about 6 to 7 hours, it is long but rewarding trek through the jungle. You walk from Buhoma in northern sector of Bwindi and make your way north through the forest, guided by intelligent rangers to Nkuringo sector in the southern part of Bwindi Park. The direction generally has an uphill at the end from Buhoma to Nkuringo and downhill from Nkuringo to Buhoma.