Encounter car rental holiday safaris in Africa and all perfectly organized by Jackie and Moses. With this style of trip, you can easily rent a car and then you tailor-make the safari itinerary with the experts and easily helping you find the best affordable and good lodges and camps.
We started our adventure with our arrival at Nairobi airport where the company representative was ready to welcome us and hand over the 4×4 vehicle Land Cruiser to us. The following day we headed to Amboseli National Park. Later, we arrived at the lodge, with swimming pool, where we were very welcomed by staff.
Our first game drive saw us spotting the first of many animals. This park is one of the classic parks of Kenya and a staple on most Kenyan safari circuits. Quite rightly it's best known for its elephants and there are large herds of big tuskers here (these are some of the best studied elephants in Africa) who are completely unfazed by cars meaning very up-close encounters are possible. Amboseli is also where all those classic pictures of elephants with a backdrop of the snows of Mt Kilimanjaro are taken.
The following day, we visited Solio Rhino Sanctuary, a finest wildlife parks in Africa, which hasn't figured on the tourist map for generations. The park entrance to this wildlife and nature paradise is located only 5 minutes away from the Rhino Watch Safari Lodge, which is one of the reasons they consider the Solio Reserve one of our main attractions.
In addition to the world's largest population of white rhinos and the near hundred black rhino, the Solio Reserve is inhabited by different other wildlife, such as buffalo, zebra, giraffe, oryx, antelope, Thompson's gazelle, impala, water buck, and warthog. The park also offers some of the best leopard viewings in the country, and lion and cheetah can also be found
The next stop was Samburu National Reserve, we stayed at Simba lodge, the sightseeing from our room: hyenas, wildebeests and water bucks grazing. What a place! We saw the grey zebra, a fight between two adult lions and one younger; a lioness hunting a zebra but unlucky, no food this time.
Before heading to the lodge, we swam in spring waters right in the middle of the African Savannah. Meanwhile, at the lodge, after an amazing day at Samburu, there was a monkey that stole bread from another guest was great entertainment (they had staff on monkey watch in place to keep the monkeys away whilst guests were eating) and the baboons don't mind getting up close and personal.
We visited Ol Pejeta Conservancy, one of the busiest conservancies in Laikipia, but also one of the largest, with most tourist activity concentrated in the eastern third, site of the main lodge, but there are also a couple of more low-key wilderness camps in the western side.
Based on a recent four-night stay, we found game viewing to be excellent, and had great sightings of lion, cheetah, elephant, buffalo and black and white rhino, along with reticulated giraffe, Beisa oryx, Thomson's and Grant's gazelle, Jackson's hartebeest and Beisa oryx.
Tanzania
After Kenya, we headed to Tanzania – again remarkably well organized and very welcomed. If I think about everything that I imagined safari to be before I moved to South Africa and began traveling Africa, it turns out that what I imagined was Tanzania. For me, the striking variety of landscapes and the staggering density of big game are in a different league to anything else I have seen in Africa so far.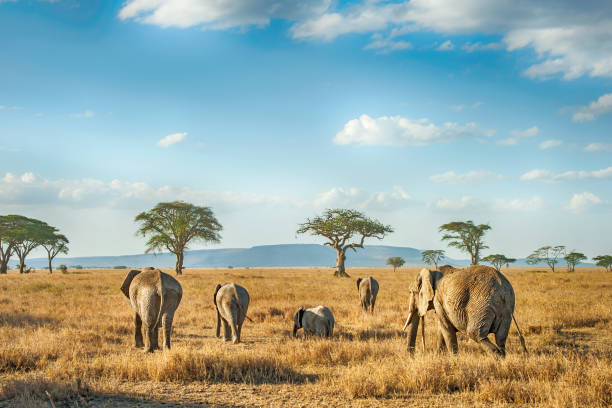 Elephants in Serengeti Plains National Park, Tanzania
The Tanzania Northern Circuit boasts what is surely the most celebrated park on the continent, the Serengeti trip, and few feelings will ever compare to the incredible moment when I saw a cheetah chase down a gazelle across the seemingly endless plains of this great wilderness, without another car in sight. Aside from playing host to the annual wildebeest migration, the Serengeti also boasts one of the largest lion populations in Africa. In fact, Tanzania is home to almost 40% of Africa's entire lion population.
The Ngorongoro Crater is, alongside the Serengeti, Tanzania's superstar park, and it's a well-deserved title. The 'crater' (technically a caldera) is breathtaking – a 160-square-kilometre circle of bush and Savannah surrounded by a ring of steep hills, giving it a truly otherworldly feel.
Within the 'crater' itself, there are grasslands, woods, swamps and small lakes, inhabited by all Big Five species and hundreds more besides. I love the fact that only male elephants live down here, and if you come in spring, you'll get to see them wading appealingly knee deep in bright yellow beitens flowers.
Lesser-known gems on the Northern Circuit include Tarangire, with its large elephant populations and baobabs, and the remote and other-worldly Lake Natron, which is home to two million lesser flamingos and is presided over by an active volcano known to the Maasai as 'Ol Doinyo Lengai', meaning 'Mountain of God'.
We couldn't have asked for such a perfect holiday. We recommend Moses' business 100% to anyone that would like to live an adventure like ours. You will love everything about it. No day is dull and every game drive is a different adventure, you never know what you will find.
Thank you very much Jackie and Moses. You made us extremely happy and we made a dream come true. We already miss Kenya and the very welcoming people there. All the best. Raquel & Stacey.