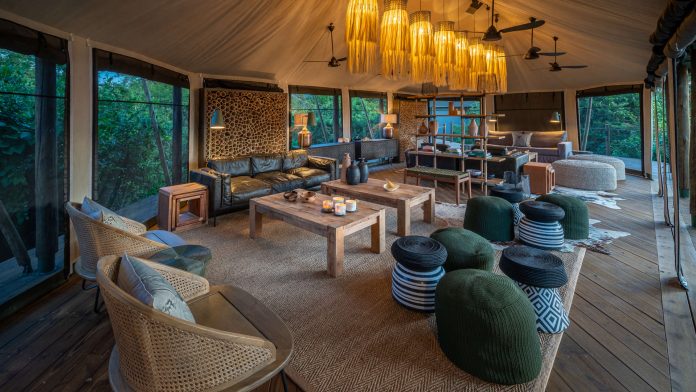 Volcanoes National Park is a safari park in northwestern Rwanda. It covers 160 km² of rain forest and encompasses five of the eight volcanoes in the Virunga Mountains, namely Karisimbi, Bisoke, Muhabura, Gahinga and Sabyinyo.
Volcanoes National Park protects the steep slopes of this magnificent mountain range home of the endangered mountain gorilla and a rich mosaic of montane ecosystems, which embrace evergreen and bamboo forest, open grassland, swamp and heath.
Tracking the endangered mountain gorillas through the mysterious intimacy of the rain forest, alive with the calls of 200 species of colorful birds and chattering of the rare golden monkey, is only one of the truly unique experiences in the area.
From the gorilla trekking tours in this park visit the boundaries of Volcanoes National Park that include the Buhanga Eco-Park, an ancient forest holding Rwanda's most intriguing folklore and Musanze Caves, formed 62 million years ago after the last estimated volcanic eruption.
Hiking, canoeing, mountain biking and village experiences offer something for everyone to enjoy.
Golden monkey trekking or tracking in Rwanda which is done in Volcanoes National Park is an exciting adventure that offers an epic encounter with a rare and beautiful species of monkeys called "Golden Monkeys".
As the name suggests, the golden monkeys have a striking golden fur coat, and added to their sprightly character are quite lovely to watch and offer excellent photography.
Bird watching is another activity commonly done in Volcanoes national park because this forest is a home to variety of bird species. There are over 300 bird species living in there and if you are a keen bird watcher, it's possible to see more than half of that number.
There are about 180 bird species that were recorded in this park in the 1980s and then in 2004, about 15 more species were recorded after the biodiversity survey.
There are birds like Grauer's rush warbler a vulnerable which is a local bird species commonly seen in the swamps, there are about sixteen different species that endemic to the Albertine Rift for example the handsome francolin, the Rwenzori turaco, the Archer's ground robin, the red-faced woodland warbler, the dusky crimson-wing, Rwenzori double collared sun bird, there is the collared apalis and the Rwenzori batis as well as the strange weaver among so many others.