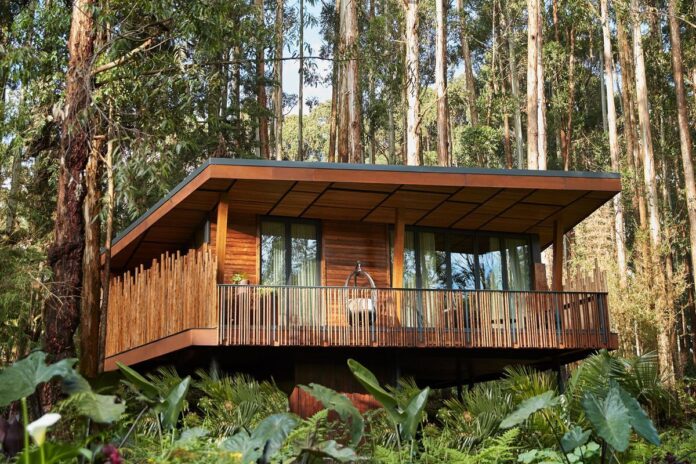 Bisate Lodge opened in 2017 but stands out as the best of all gorilla trekking lodges in Rwanda. Built and modeled in the form of traditional palaces, this five-star funky safari eco-lodge is a glamouring accommodation for Rwanda gorilla trekking adventures.
Bisate is well facilitated with spacious conical chalets, impressive exterior and interior and outstanding views across the brooding volcanoes. This lodge is also located within the vicinity of golden monkey circuits, the gorilla fund organization as well as being close to Dian Fossey's grave and the twin lakes of Ruhondo and Burera.
You can also participate in the local community programmes while staying at this lodge. Offering the finest facilities, amenities and services in this part of Rwanda, this new premier lodge is an ideal stopover for ultra-luxurious seeking guests looking to explore the wonders of the region.
Mountain Gorilla View Lodge is located on the edges of the Volcanoes National Park, the home of Mountain Gorillas in Rwanda. Staying at this hotel gives you time to have enough rest from a long hours journey from Kigali with less than 15 minutes of driving to arrive at the gorilla trekking point in Kinigi. This eco-lodge type of safari accommodation consists of 30 spacious modern rooms each with a sitting area and a fireplace plus a tea/coffee making machine and overlooking the Volcanoes National Park.
Sabyinyo Silver Back Lodge is a premier accommodation that offers stunning views of the Virunga volcanic mountains and the lush greenery of sprawling fields and farmlands. Choose from the lodge's collection of 9 cottages and suites, located at a good distance from one another to offer all the privacy you need.
The cottages, which feature Rwandan terracotta tile roofs, have open patios for relaxing in hammocks and other seating arrangements. You can also opt for the family suite, which includes two bedrooms, each opening onto the shared patio.
One&Only Gorilla's Nest Lodge
Hidden away in a forest of eucalyptus trees with distant views of the Virunga Mountains is the luxurious One&Only Gorilla's Nest Lodge. This distinct primate holiday accommodation is comprised of two sections: the main lodge and Jack Hanna Cottage.
Guests can choose from the two adjacent Ranch Rooms or the two rooms in Hanna Cottage; a rollaway bed can accommodate a third guest in each room. You will love the lodge's tranquil, yesteryear ambience and its lounge, featuring plush furniture and eclectic Rwandan art. Step outside to relish the beauty of giant hydrangeas and the songs of some of the 178 bird species that make their home in the region.
Virunga Lodge offers luxury accommodations that are ideal for guests looking for superior facilities and amenities. Located atop a ridge, the lodge offers picturesque panoramas of the Burera and Ruhondo lakes and the volcanic peaks of Volcanoes Park, while the main lounge is a pleasant place to relax.
Discerning guests can stay in one of the 10 Bandas the lodge provides, including 4 rooms with double beds and 4 rooms with twin beds. Families can opt for one of the 2 Deluxe Suites, which include two bedrooms and a living area. Vacationers can also enjoy on-site massage services.
Singita Kwitonda Lodge is a part of the Singita brand of high-end stay overs in Rwanda. Located in the Volcanoes National Park, this lodge has a total of 9 accommodations for luxury vacationers. You can choose from one of the 7 standard one-bedroom suites or the two cottages with multiple bedrooms.
One of these units has two bedrooms to sleep a maximum of 4 guests while the Kataza House is a self-contained villa with 4 bedrooms. This boutique house can accommodate up to 8 guests and also includes a living room, dining area, outdoor plunge pool, and kitchenette. A minibar and alfresco shower are included in all the units.