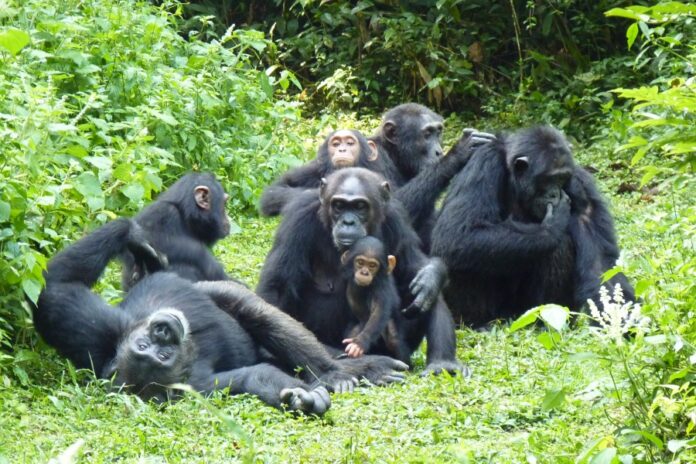 This is Uganda's most important refuge for chimpanzees, supporting a population currently estimated at around 800, including communities that have been habituated for research purposes since the 1970s. Though the Budongo Forest is rarely a destination on its own, it makes an excellent add-on to Murchison Falls National Park. It lies in Western Uganda and is a home to a stable community of chimpanzees both for research and tourism.
In addition to chimpanzees, the park is home to the rare tree Hyrax and endemic bird species Nahans francolin. It is also one of the most extensive and ecologically diverse forests in East Africa, with 465 plant species recorded, of which the most impressive are the giant mahoganies that stand up to 60m tall, and whose buttressed bases are often used as drums by roaming chimp. Unfortunately, however Budongo is not nearly so well developed for tourism as its closest counterpart Kibale.
The tourist site at Busingiro no longer offers chimp tracking to tourists, while its counterpart at Kaniyo Pabidi now functions as an annex of the Murchison Falls Conservation Area and seems to be far less reliable for chimp sightings than Kibale National Park. That said Busingiro in particular is quite simply a great spot for bird watching, and I'd recommend that any serious twitchier find time to explore the so-called Royal Mile near Nyabyere Forestry College – in terms of rarities and visibility, arguably the single best bird watching site in Uganda.
Budongo Forest can easily be visited en-route to Murchison Falls National Park. In fact, the road to Murchison runs through the forest. The main activity here is chimpanzee tracking. If you're, lucky you may see a chimp crossing the road before even reaching the lodge from where chimp tracking is organized. You probably won't see any safari species on a forest walk here; rather people come for the troop of habituated chimpanzees. There are no big hills to climb here, so this is the easiest place to meet our closest living relatives. And the hour that you are allowed to stay with them will be magical.
Unfortunately, this is not that unusual, and you can't rely on sightings here as much as in Kibale Forest. Even when you don't see the chimps, the forest is beautiful and worth a stop-over in any case. This is also a birding hotspot and walking on the main road, which is actually the best way to see birds in the canopy, is permitted at all times (as opposed to chimp tracking which is a set activity).
I have been to Murchison Falls National Park countless times and I do my best never to miss taking a walk in Budongo Forest. A walk in the forest is similar to nothing else in that part though the other activities are quite good too. Whether you go to Pabidi, to the royal mile or to Busingiro, every place has its own incredible moments.
Chimpanzee tracking in Uganda has a thrill of its own but as you walk you take time to listen to the unique sound of the insects, birds and the silence sometimes. If you are a town dweller with its noises and chaos, then this is where you get healing. The coolness and the green have a way it soothes and touches you that makes you feel reinvigorated and one with nature.
That aside, our guides very friendly, highly knowledgeable and friendly. Their rich knowledge of the trees and plants, of the animals and birds takes you back into a learning experience equal to none. Do not go to Murchison falls and miss out the forest; it is a rare gem. Do not just look for Chimps, look for nature and appreciate every little bit in there; every moment is worthwhile.
Most of the Lodges to Budongo and Murchison Falls are inside and at a budget level, and because of this tourist's resort to having an overnight in Masindi town to meet low costs. A new Hotel and camp have berm put up to solve this "NEWMAN'S CAMP". It's just 70m, and it takes one 1 to 2 hrs.' drive to Murchison Falls. The lodge is located at Kicumbanyonbo gate.
Budongo Forest Reserve is home of chimpanzees, so with a bit of luck you get to see them in their natural environment. A beautiful forest with good possibilities to see wildlife. Gorilla Safaris Tours awaits to take you there.